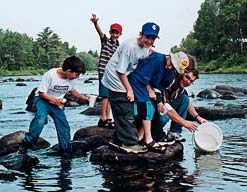 The A program developed by the Atlantic Salmon Federation, but which is now being operated by local and regional organizations. The longevity of Fish Friends is directly related to its success – and its flexibility in different classroom settings and with the particular teaching situation.
Teacher's Kit contains the following:
Curriculum Guide & other ASF Resource Materials
ASF Chiller Unit
1 Hagen all-glass 33US gallon (125 Litre) fish tank
1 Aquaclear 70 aquarium power filter
1 Aquaclear 70 amrid ammonia remover insert (to be replaced annually)
1 Aquaclear 70 activated carbon insert (to be replaced annually)
1 Aquaclear 70 foam filter insert (to be replaced annually)
1 power filter water intake screening (to prevent fish from entering the Aquaclear power filter)
enough pebbles to provide shelter on the aquarium bottom
1 nylon dip net
flexible tubing (6ft), 3/16″
1 thermometer
1 aquarium background poster (check with your contacts)
Chiller Units
The chiller unit is a major piece of equipment that is custom produced for the Fish Friends Program. It includes a compressor, cooling coil, motor and fan, and is capable of cooling your unit under any and all conditions.